Custom Made DIY Shade Sails
Online store to purchase your custom made high quality
Custom Shade Sails. Buy Shade Sails Manufacturer Direct.
Custom-Made & Standard Size Shade Sails
Here's just a few reasons to choose us for your high
quality Australian-Made Shade Sails
Our webbing-edged Shade sails are produced by Shade Sails online in a huge range of standard shade sail sizes and shapes in both imperial and metric sizes. Each standard size shade sail is individually fabricated upon order, they are not mass-produced.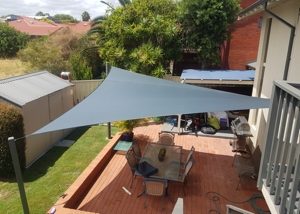 Only the highest-grade materials are used in the construction of our shade sails. Premium high-grade quality shade cloth is used for the canopy. This shade sail cloth fabric provides up to 96% UV protection whilst having the capacity to breathe to allow hot air to flow out.
Shade Sails Online specialise in providing a custom-made shade sails fabrication service.  Additionally, we also offer a range of shade sail fittings.  We can also provide assistance with large, unusual, or multiple Shade Sail projects.
What Our Clients Say About Us
Hi all, we are extremely happy with our sail. It is positioned perfectly to block out the afternoon sun and as it is going to be 34 today we will enjoy it. We live in Tassie and couldn't get one made here as our measurements were unique, but it was so easy from you guys. Thanks heaps.
The time from order to delivery was very fast – less than a week! The shade sail shows good quality workmanship and fits as expected. I've already recommended you to a few other people, and when this shade eventually needs replacing I'll be coming back to you again!
Shade looks good, and is well made.
Excellent service throughout. Great quality product.
Looking to bring some shade to your outdoor space? Shade sails are one of the most convenient, flexible, and customisable options in the market. You can use them to block out the sun on your patio or to add some flavour to your pool deck. They also come in handy for restaurants, boats, caravans, and much more. Choosing the right shade sails will be key in bringing your premises to life. That is why Shade Sails Online makes high-quality, customised, and durable shade sails for many different locations. We blend the need for durable shade sails with a seamless online experience to provide the best possible service for our customers.  From the fabrics we use to our competitive online pricing, Shade Sails Online fabricates and supplies high-quality custom-made and standard-size shade sails. Each of our products is designed and made individually, they are not bulk produced.
Why get shade sails?
Are you considering getting quality shade sails for your home, vehicle, or business? Our shade sails provide the following benefits –
If the sun's harsh rays are constantly beating down on your outdoor space, shade sails are an excellent option for getting the shade that you need. Each type of fabric used can block out the sun and provide comfortable shade for many different purposes. And because they're easy to install, you can choose from many different shapes and sizes. Whether you need to cover up a small patio or a large outdoor deck, shade sails will block out the sun.
Once the structural integrity of your proposed fixings and an appropriate design are confirmed, Shade sails are typically simpler to install than awnings, sheds, and other types of outdoor coverings. Many people install shade sails as a DIY project or you can hire a local tradesman/handyman to install your shade sail for you. Our high-quality fabrics are durable enough to withstand the harsh Australian Sun. And when you buy online, we ship your Shade Sail with everything you need to carry out a successful installation. Keep in mind you will need to have already installed your fixing points to attach the Shade Sail to.
Shade sails also allow you to make better use of outdoor space. As Shade Sails Online supplies custom-made shade sails in many different shapes and sizes, restaurants, bars, cafés, etc can add extra space outdoors. Hotels can also use shade sails to accent attractive outdoor decks, and offices can create comfortable seating areas for their employees. This can assist in boosting sales in your business and can help employee productivity.
Custom shade sails are the epitome of style and flexibility. You can choose from many different measurements, colours, and designs to add a unique touch to your outdoor space. Our various-shaped shade sails cover lots of air space, whilst adding structure to many different outdoor areas. Regardless of the shape that you choose, we will provide High-Quality Shade Sails that are durable and easy to install.
What makes our shade sails different?
Shade Sails Online is your number one stop for high-quality customised products. If you're looking for sails that truly bring the shade, look no further than our shade sails. We stock many different sizes, fabrics, and designs that will fit perfectly in your home. But what truly makes our shade sails different
Are you ready to breathe life into your outdoor space? Shade Sails Online is your number 1 choice when it comes to purchasing sails that truly bring the shade. Check out our customised options, and you won't fail to find something that meets your needs. Get your Custom Made Shade Sail today.