Shade sails are produced by ShadeSailsOnline.com.au in a huge range of both Custom Made/DIY and standard shade sail sizes and shapes in both imperial and metric sizes.
Each standard size shade sail is individually fabricated upon order, they are not mass-produced.  Shade Sails Online also provide a custom shade sail fabrication service. Our custom-size shade sails are made to suit your requirements.
We also offer a range of shade sail fittings and other products which can be ordered here. 
Shade Sails Online orders include delivery in Australia wide including all major cities Perth, Brisbane, Sydney, Melbourne, and Adelaide, and regional areas.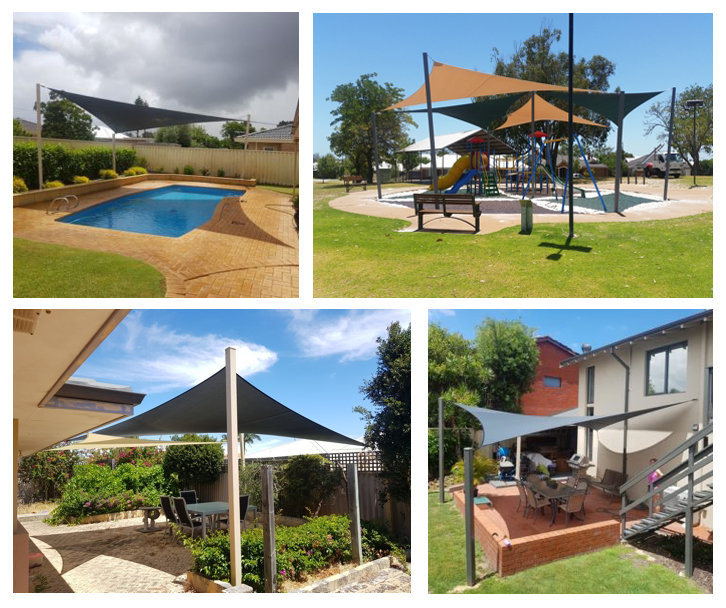 Discover Shade Sails Online…
To achieve our goal of becoming the market leader, only the highest grade materials are used in the construction of our shade sails. Premium, high-grade quality shade cloth is used for the canopy. This shade sail cloth fabric provides up to 95% UV protection whilst having the capacity to breathe to allow hot air to flow out.  Just right for hot Australian weather conditions.
A Shade Sail provides protection from the Australian sun and looks great in your home's outdoor areas – covering pools, barbecues, patio areas, and spas. In fact, you can place a shade sail in any area where shade is required
Do you require a specific shape and size for your shade sail?  You can use our design calculator to add your measurements to order online.  Remember that delivery is included in your purchase – for delivery Australia-wide.