When you choose outdoor shade sails for your home or business, you can combine multiple shade sales to create a shade structure. Sometimes, just one shade sail is necessary, while other times, you need many.
You might have a large patio in your backyard you want to cover or an outdoor area with your business needing shade. With the right outdoor shade sails, you can create not only the right shade for the space but also an attractive structure.
There are several things to consider before you purchase your outdoor shade sails for your new shade structure including:
The size of each shade sail
The color of your shade sails
How you will organize them
Will you install them yourself or hire someone?
And more!
Make sure you go through the process of choosing the right outdoor shade sails for your needs before placing your order.
8 Different Shade Structures to Create From Outdoor Shade Sails
1. Framed Shade Structure
One of the most popular shade structures to create with your shade sails is called a Framed Shade Structure. This type of structure includes four posts and works great for many spaces. This type of shade structure will give you a solid amount of shade with full coverage.
The structure offers plenty of protection from UV rays and provides a great choice for the following:
Playgrounds
Backyard pools
Seating areas
Basketball courts
Car Washes
Bleachers
There are a few different sizes you can create and different configurations. If you choose a hip roof structure, you'll gain the protection you desire from the sun with an easy to create shade structure.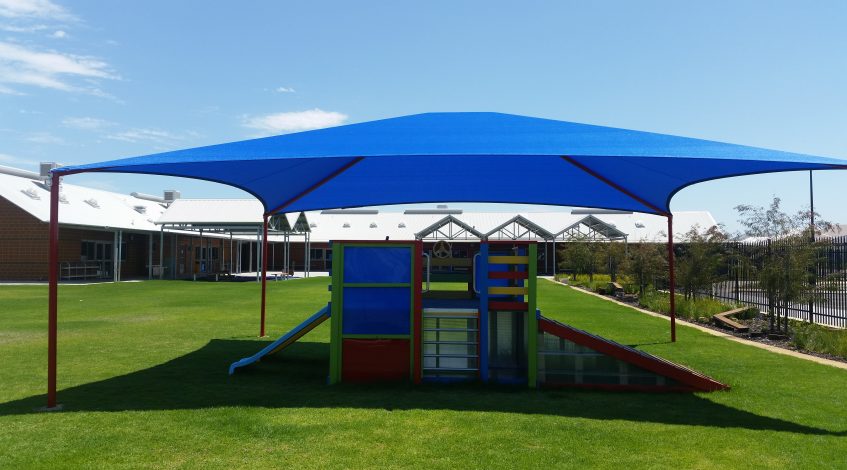 2. T-Style Canti
Another unique design for your outdoor shade sails is known as the T-style Canti or just the T-style. This design uses two posts, instead of the more traditional four-post design. It's cost-effective and offers a good solution if you want to add shade to a tighter space.
Instead of regular posts, the two posts used to secure the shade sails have a "T" design, which makes it easier to stretch the shade sails properly. The T-style design works for smaller spaces where it's harder to get shade.
3. Hexagon and Octagon
It's pretty easy to design a hexagon (six-sided) or octagon (eight-sided) shape with your shade sails. These shapes work great for large and medium areas you want to add shade to, such as splash pads.
While it's possible to add a center post, if you want to create a hexagon or octagon, it's not necessary with the right shade structure design. Designing your outdoor shade sails into a hexagon or octagon shape works great for circular patios in the backyard, some playgrounds, splash pads, and some seating areas. It's also common with amusement parks.
4. Mega Span
While most homeowners won't need to use the mega span shade structure, it can be a great option for businesses. With a mega span structure, you'll be able to cover a much larger area, such as a basketball court, storage area, or parking lot. It's a larger design that ends up as a large square or rectangle with six posts.
5. Shade Umbrellas
The most common backyard option for an outdoor shade sail structure is the shade umbrellas. It's a smaller design, usually with one post. Shade umbrellas can cover up to about 400 square feet of space and work great for food courts, picnic areas, backyards, and poo-side tables.
6. Shade Kites
Providing sun protection for an area in your backyard, at a community pool, or at your business can easily be done with a shade kite structure. One triangle outdoor shade sail and three posts will be used to create the shade kite structure with one side of the shade sail higher than the other.
The main benefit of this type of structure is providing targeted sun protection from a specific angle. Usually, the shade sail will be angled to create shade during the hottest portion of the day.
When you point the lower side of a shade kite towards the west, you'll gain more protection from the afternoon sun. You can create this type of structure in multiple sizes and shapes, depending on your needs.
Shade kites work great for:
Water parks
Outdoor dining areas
Playgrounds
Pool decks
7. Cantilevered
Another type of shade structure is the cantilevered. This type of design works great for seating areas, such as bleachers. With a cantilevered shade structure, you'll gain plenty of shade without much visual obstruction.
Cantilevered outdoor shade sail structures work great for:
Bleachers
Dugouts
Car washes
Pool decks
High-volume parking areas
Golf ranges
Concession areas
8. Shade Wings
Another choice you can use for shade without obstructing the view is a shade wing. This type of structure uses outdoor shade sails with a tilted roof design to provide protection from the sun and some rain protection, as well.
A shade wing will have one side higher than the other with single-sided support. It's great for benches, pool decks, walkways, and loading/unloading zones.
Creating a Custom Shade Structure
While it's easy to see the area you want to provide shade for, designing the right shade structure isn't always easy. The eight designs above give you some ideas, but your space might not fit into one of these designs.
When planning your custom shade structure, make sure you consider the following:
When you plan to use the area
Where the sun will be during the majority of the area's usage
The size of the area
Any anchor points you already have, such as your house or a specific tree/structure
The actual shade throw of your shade structure
Our planning and design page provides more things to consider when creating your shade structure.
Make sure you take the time to consider the type of shade structure to fit the space you want to provide UV protection for. Outdoor shade sails work great to provide sun protection and shade for homeowners and business owners. With the right design, you can gain the look you desire.